Executive Master in Business Administration
Introduction
The Executive Master of Business Administration program enables high-caliber, experienced managers, executives and entrepreneurs to combine business education with their professional lives. EuroPort Business School cares about the participants personal and career development. EMBA participants hold management positions in their organizations. Therefore, they can immediately apply what they have learned in a professional context. The EMBA program is designed with comfortable off-campus periods to connect theory and practice.


Duration: 1,5 year
Language: English
Level: Master of Business Administration
Branch: Business & management
Occupation: CFO, CEO
Since September the first of 2011, EuroPort Business School and VU School of Management started an intensive cooperation in the field of Academic courses.

Program
EPBS is providing its EMBA program on the basis of the so-called "competency based education concept". Students are developing knowledge, skills and competencies on a simultaneous (integrated) basis. This education concept is designed to fulfill the needs of the next generation executives and managers for whom a broad understanding of business, management and in-depth vision, are essential; 'this concept distinguishes us from our competitors'.

By using a mixture of core and concentration modules, we ensure that our students are able to master the principles of business and management, while at the same time they are able to concentrate on an area of own interest. Upon fulfillment of the requirements they will be awarded an EMBA degree with a concentration in:


Management
Marketing
Strategy, leadership and Entrepreneurship
Above all the EPBS EMBA is a challenging, stimulating, enjoyable and a rich experience to all the individuals joining our Business School.

Program structure
The EEMBA program is comprised of mostly three credit courses (48 credits in total) and is divided into two groups. With rare exceptions, EEMBA participants are required to follow the course sequence as shown below.
The foundation course provide EEMBA participants with a solid academic foundation
The concentration courses allow EEMBA participants the opportunity to develop further a specific area of interest.
EMBA Foundation courses


| | | |
| --- | --- | --- |
| 1 | Managerial Economics | 3 credits |
| 2 | Finance and Accounting | 3 credits |
| 3 | Production Management | 3 credits |
| 4 | Organizational Behavior | 3 credits |
| 5 | Management Theory | 3 credits |
| 6 | Marketing Management | 3 credits |
| 7 | Information Systems Technology | 3 credits |
| | Total | 21 credits |
Concentration courses are designed to complete the undergraduate and Master's requirements for each EMBA participant.

EMBA Concentration Course


| | | |
| --- | --- | --- |
| 1 | Management | 27 credits |
| 2 | Marketing | 27 credits |
| 3 | Strategy, Leadership and Entrepreneurship | 27 credits |
| | Total | 48 credits |
The duration of the EMBA course is 18 months and participants must successfully complete all courses. The courses are assessed by means of both coursework and examination.

It is compulsory to write a thesis to finish the EMBA program. The thesis should have a strategic analysis, a report that looks at a certain issue and gives well –founded solutions. The participant needs to conduct both qualitative and quantitative research. The thesis must give data and ascertain validity. The paper length is 25.000 words. Participants may be exempted from the Foundation Courses based upon undergraduate major and courses taken at other learning institutes. The foundation Course provide essential tools for the Concentration Courses.

The participants learns to resolve problems by studying its past and present development and its application in diverse situations. Participants will be taught how to consider the positive and negative features of each alternative and to reflect and discriminate the possible outcomes and their ethical aspects

By the end of the program the participant :


Will have learned how to maintain competitiveness and excellence in the global marketplace
Will be aware of the needs and aspirations of the global environment
Will be committed to lifelong learning
Will have earned how to value the diverse thoughts of humanity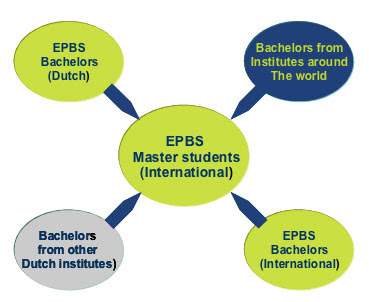 Admission requirements
Prerequisite for admission into the EMBA program is a Bachelor degree representing 240 ECTS An intake assessment forms the final part of the selection process. Students have to prove that they have the motivation and are ready to make the effort to be successful during and after the course.


The following admission requirements apply to the following academic courses:


| | | | |
| --- | --- | --- | --- |
| Courses | Requested degree | Level of English (1) | Relevant working experience |
| EMBA part-time | Bachelor degree | IELTS 6.5 | Three years |
(1) Requirement for international students

Intake assessment
An intake assessment provides an insight into mutual expectations, both for the participants and for EuroPort Business School. During this assessment we look at whether you are entitled to certain topic dispensations based on prior education or competencies gained elsewhere. We look at what motives you have to start this education in the first place. This ''selection at the gate'' enables us to continue to guarantee the high quality of education it provides for all participants and their environment.

Tuition fee In the table you find the tuition. These amount is not including the study books. You can pay the tuition fee:


In one amount at the start of the academic year
In four installments
| | | |
| --- | --- | --- |
| EMBA part-time | 18 months | Depens on wich country you follow the course |
More information & applicationform
If you need more information, please do not hesitate to contact EuroPort Business School.